TRAINED TEACHERS WITH TOT TEAM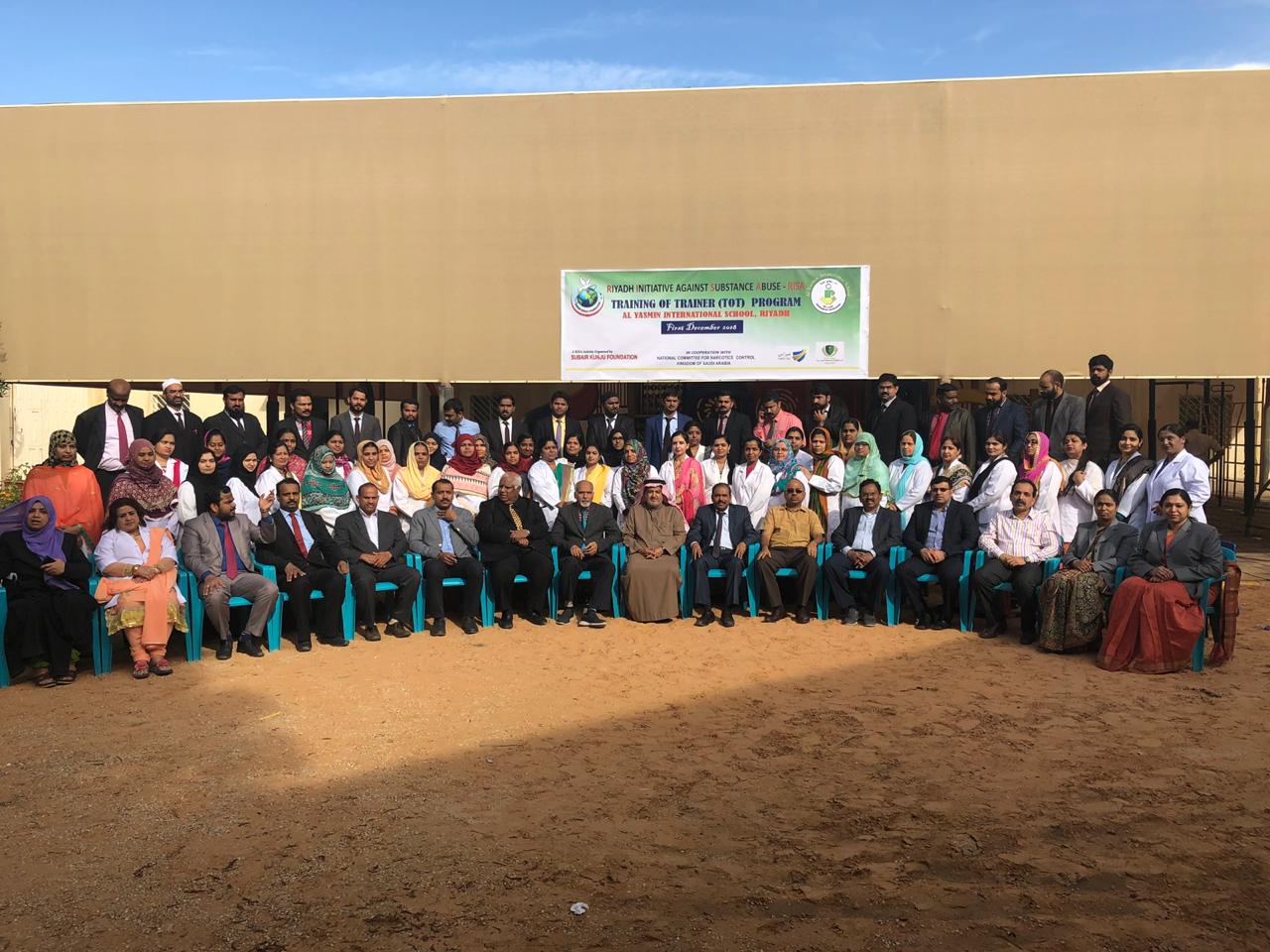 Saudi Gazette Report
RIYADH — The 6-yearlong campaign against substance abuse by the Riyadh Initiative against Substance Abuse (RISA) distributed certificates to 87 teachers of Al Yasmin International School, Riyadh, who had successfully completed the TOT (Training of Trainer) program by RISA.
The function was notable by the presence of Dr. Ali Farhan, deputy executive director of family medicine and primary health care, King Abdul Aziz Medical City, Riyadh, Ministry of National Guard Health Affairs, as chief guest. Dr. Ali Farhan expressed that the noble activity of this Indian expatriate team should be recognized as a model venture by other expatriate communities in the Kingdom.
Principal Dr. K. Rahamathulla, in his welcome speech, congratulated staff members who got trained in propagating the message of social evils of substance abuse and announced the beginning of School RISA club that would function in association with the social club in the school.
Dr. A. V. Bharathan, the program consultant, briefed all on the activities of RISA in his introductory speech. The chairman of Subair Kunju Foundation and the RISA convener, Dr. Abdul Azeez Subair Kunju, said that the Al Yasmin RISA club is the second such club to be formed in the city of Riyadh and the trained students and teachers will be given the latest development in the preventive strategies against substance abuse periodically and continuously.
Dr. Naseem Aktar Quraishi, and Dr. Thambi Velappan were among the resource persons who briefed the audience. School principal Dr. K Rahmathulla, admin manager Shanoj Abdulla and office supdt. Ms. Rahina Latheef were given certificate of honor for their sincere efforts for the conduct of TOT in the Institution.
Dr. Joshy Joseph, Georgekutty Makkulath, Tony Joseph (sales manager, Joy Allukas) and Sayed Masood (principal Success international School) distributed the TOT certificates to the teachers. Shahul Hameed recited verses from the Qur'an and Ms. Asha Cheriyan delivered the vote of thanks. The program was coordinated by Navas, Thanseem (both from RISA) and the school staff Sayed Anwar Hamza, Jeby, Iqbal, Vijila, Shihab, Yasir. Ms. Sunitha Bernard anchored the function.
The Riyadh Initiative against Substance Abuse campaign is being organized by a Trivandrum-based (Kerala) charitable trust, Subair Kunju Foundation, which has further intensified the campaign against drug abuse and addiction by inducting TOT for selected teachers and students of International Schools in KSA since Dec. 2015. The organization has been officially recognized by the National Committee for Narcotics Control Kingdom of Saudi Arabia since 2013. —SG